How to Contact Tuscan Moose Manor
Bed and Breakfast

To reserve one of our suites, please contact us by telephone at 509-263-5820.

This number is a cell number and you may text for availability dates
or
let us know what time you are arriving or if you are running late.



We are located at 14224 E. Piper Rd., Spokane, WA 99217.
For additional directions, click the "Directions sub-tab" listed under the Reservations tab.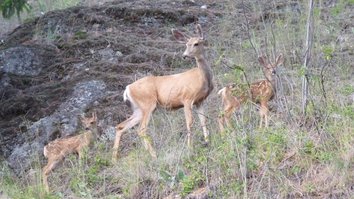 We are waiting for you!!!




---
Policies:

We currently accept Visa and Mastercard, and checks are accepted in advance.

If your booking is cancelled less than 4 days from the reservation date, guests will be charged for one-half the room rate. If more than one night was booked, one full night will be charged to the guest. Please note: Guests who are no-shows or cancel their reservation the same day of their booked stay, will be charged the full amount of one night's stay.

8.7% Washington state sales tax is collected on all bookings.

Check-in is between 3:30 p.m. and 8:30 p.m; Check-out is at 11 am. Please call us if your arrival will be later than 8:30 p.m.